Rebuild Your Best Smile with Dental Implants
Tooth loss can negatively affect your oral health, your smile's ability to function, and your overall quality of life. That's why the Market Place Dental doctors and staff members want to help you gain strong, capable replacements as soon as possible. Dental implants are right at the top of the list! This state-of-the-art service replicates your natural tooth's full structure, providing valuable health and aesthetic benefits in addition to impressive longevity. If you'd like to learn whether or not dental implants could be the right choice for you, contact our Oak Creek, WI practice today. New patients from South Milwaukee, WI and other nearby areas are always welcome!
How Do Dental Implants Work?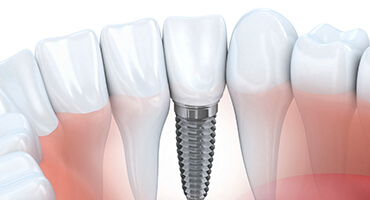 Your natural tooth is composed of two important sections: the crown, or the visible portion that makes up your smile, and the root, which is hidden safely underneath the gum tissue. Traditional tooth replacement options only replace the crown. While that does correct the aesthetics of a missing tooth, there's a bigger problem: without a functioning tooth root to stimulate the jawbone, the tissue begins to deteriorate. Thankfully, dental implants are designed to be new roots that are surgically inserted into the jawbone, creating a solid, healthy foundation for replacement teeth that will last for many years to come.
After it has been determined that you're a good candidate for dental implants, our doctors will refer you to a trusted specialist in the area who can handle the surgical portion of your care. And once you've successfully healed and your new implant(s) are ready for restoration, you'll return to our Oak Creek, WI location to complete the treatment.
Dental Implant Restoration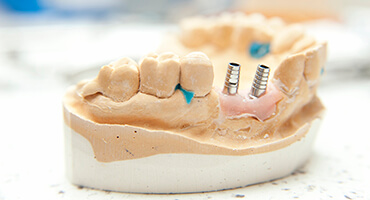 Our recommendation for your new, custom-made restoration will be based on multiple factors, including the number of teeth and/implants that require coverage as well as your personal preferences. For individual implants, an all-ceramic dental crown can provide optimal restoration without negatively affecting surrounding healthy teeth. An implant-retained bridge/denture can also is a more cost-effective way to restore multiple dental implants at once. These prosthetics can be fixed (permanent) or removable.