Maintain Strong, Healthy Smiles with Preventive Dentistry
Prevention is the foundation of everything we do here at Market Place Dental – after all, isn't it easier to stop cavities, gum disease, and other dental problems before they get the chance to start? Dr. Nguyen and Dr. McEwan, and the rest of our team members enjoy working with patients of all ages to help them understand the importance of ongoing oral health, providing comprehensive checkups, revitalizing cleanings, oral hygiene education, and other valuable services that will give them the support they need to smile confidently. If it's been some time since your last dental appointment, contact our Oak Creek, WI location today.
Checkups & Cleanings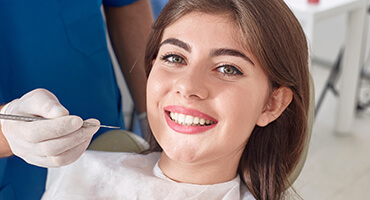 Six-month checkups and cleanings are an essential part of maintaining your best smile for life. Our Market Place Dental team takes a comprehensive approach to fully understand any oral health problems you're facing, and then treat them as early on as possible. Each examination will feature digital x-rays if needed, an in-depth visual review, periodontal probing and charting, and detailed treatment recommendations.
Additionally, one of our talented hygienists will treat you to a professional cleaning that refreshes your smile and removes decay-causing bacteria. Plaque is constantly forming in your smile, and while it can be successfully eliminated with diligent brushing and flossing, missed areas will develop into stubborn tartar. Our team is capable of clearing away plaque, tartar, and minor staining as well, all the while helping you remain comfortable throughout the process.
Dental Sealants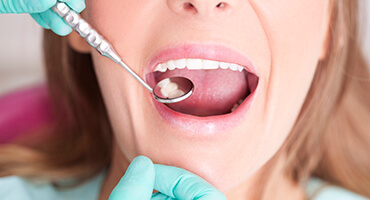 Learning how to brush and floss effectively from a young age can greatly benefit growing smiles, but our team also understands that it can be tricky to reach every tooth surface with little arms. As a result, the deep chewing grooves on the premolars and molars in the back of the mouth are at a special risk of decay in young children. That's why we're likely to recommend dental sealants for kids and cavity-prone adults. The sealants are applied directly to the chewing surfaces of the teeth in a fast, painless treatment. Once in place, dental sealants prevent the buildup of food particles and decay-causing plaque and bacteria, helping your family enjoy healthier, happier teeth for years to come.
Bruxism & TMJ Therapy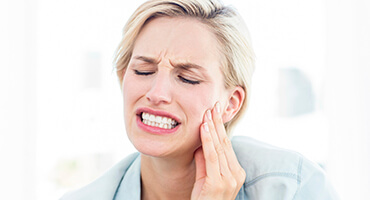 Are any of the following symptoms familiar to you?
Excessive headaches/migraines
Damaged/worn-down dental structure with no known cause
Chronic jaw and facial pain
Jaw joints that constantly click, pop, or feel like they lock in place
If the answer is yes, you may be suffering from bruxism (teeth grinding) or TMJ disorder. Both of these conditions can negatively affect not only your oral health, but your overall quality of life – that's why our team hopes to provide a diagnosis and treatment as soon as possible. We can design custom-made oral appliances (night guards or oral splints) to cushion the teeth and jaw, allowing for a more comfortable resting position that minimizes damaging movement.
SportsGuards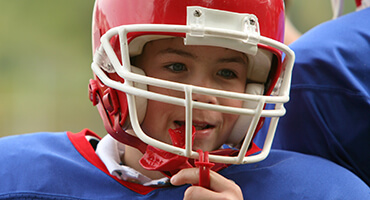 If you or your child is an athlete, it's important to provide your smiles with the same protection that you do for your head, knees, and elbows – that's why we're likely to recommend a custom-made sports guard. Unlike "one-size-fits-all" appliances from the local athletics store, your sports guard from Market Place Dental will be designed according to the specific dimensions of your unique mouth, providing optimal security, flexibility, and comfort.
Oral Cancer Screenings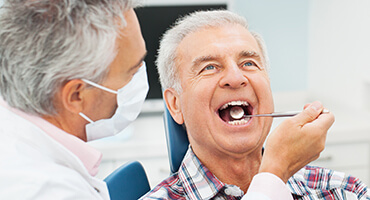 When it comes to your oral health, you probably think more about cavities and gum disease than oral cancer – but that doesn't mean you should neglect regular screenings. In fact, tens of thousands of people are diagnosed with oral cancer every year, and nearly half of them won't survive more than five years after diagnosis. That's because most cases aren't correctly identified until they have already reached advanced stages. Fortunately, our Market Place Dental doctors have integrated oral cancer screenings into every routine appointment. During a routine exam, we will review the mouth for signs of abnormal oral tissue or sores that may point towards precancerous or cancerous cells. The earlier oral cancer is identified, the higher chances the chances for a successful recovery.
Gum Disease Treatment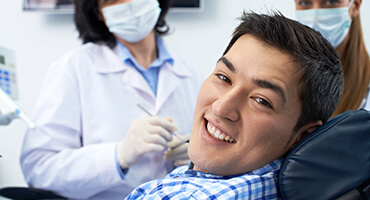 Periodontal (gum) disease may seem relatively harmless in the early stages, but this common health problem can quickly grow out of control if it's left untreated for too long. Gum disease ultimately results in jawbone deterioration and permanent tooth loss. That's why our doctors and staff members here in Oak Creek emphasize the importance of periodontal health whenever possible, providing in-depth screenings during regular appointments. If we encounter infection, effective therapy options are available to eliminate destructive bacteria and restore health to your gums. Treatments include an in-depth cleaning known as scaling and root planing and antibiotic therapy.
Children's Dentistry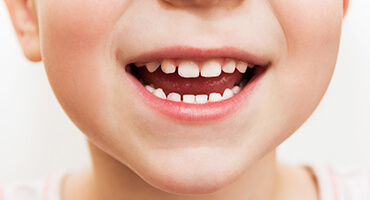 We love treating whole families from Franklin, WI and surrounding areas, and our doctors and staff members have perfected the caring, compassionate approach children need to feel safe and at home during every appointment. We'll start off with gentle checkups when they're very young and slowly evolve our care to include cleanings, dental sealants, tooth-colored fillings, and other necessary services that protect and strengthen their special smiles. Our doctors will also keep a close eye on any developmental concerns that may require restorative or orthodontic intervention down the road, as we hope to treat these issues at the earliest stages possible.